So I have been reading Mama Kat (
www.mamakatslosinit.com
) for a while now. Love her! And she has these great writer's workshops. Until today, I have never really taken part. But this week I was intrigued.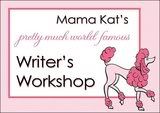 Given my current circumstances, I chose Prompt No. 1. "Write a letter to yourself from someone who has passed on. (ie: parent, grandparent, famous person, friend, pet, etc)" I chose my dear late mother in law.
Dear Raina,
I had hope in my heart, when I first met you, that you would fill a needed spot in my son's life. And although I left him only two months after you two were married, I felt certain that you had succeeded. A man much like his father, my son was always tightly lipped about anything real or raw. But you saw in him something that could be penetrated. A quiet spirit with an endearing smile. He lit up around you and I saw his heart in a way that had been hidden from me, hidden from the world. Even after I was gone, I saw him secretly give into you. But still I knew the journey you had before you.
I was there when you tried to comfort him in my absence. I held your hand when you tried to hold his. I was there for the next six months as you lost loved ones in your own life. I held his hand as he tried to hold yours.
I rejoiced in the birth of my first grandchildren, twin boys that resembled my own sons so much. I watched as you hoped this creation would open my son's eyes to you and let you in his heart just a little more. I watched as the disappointment grew when that didn't happen.
I stood by you when you tried to understand what was happening. My son building his wall, the only thing he knew to protect himself. I know that you questioned what it was he was protecting himself from. I wanted so much to help you understand that this was something you would never be able to understand. This wasn't your fault.
I watched as you struggled with your courage and hoped that the courage I had in my own life could be your inspiration. I put my arms around you as wept at the loss of your marriage. I embraced my son too. And I know that you braved every urge to give up long before now. I know that you tried very hard to hold onto something that just didn't want to be held. I do not blame you. I am proud that you are still my son's friend. I am proud that you found the courage to face the scary road of divorce and still remain my son's friend. I am proud of you both.
Today I hold the hands of my grandchildren as they struggle to adjust to this new life. Today and for all their days ahead, I will stand by them and embrace them as they walk this life and stare down their own forks in the road.
I love you and miss you,
E
Happy Living All!